Your community can't find you? Increase your exposure...
Click JOIN to learn more and become a member.
Join
Helpful tidbits for parents and entrepreneurs
Helpful tidbits for parents and entrepreneurs
Feb 04, 2010
Watch Us on KABC TV Channel 7 Eye Witness News Los Angeles
Work-at-home parents become a growing trend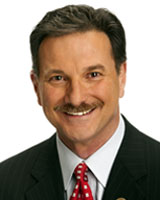 Ric Romero
LOS ANGELES (KABC) -- With big businesses in the news for paying their executives lavish salaries and bonuses there is a new trend to buy products and services from family owned and operated businesses. Consumer Specialist Ric Romero brings to attention a website that can help you to find businesses run by work-at-home parents.
The local Web site is called OurMilkMoney.com. By purchasing goods and services from its work-at-home parents, who live in your own neighborhood, you're not only helping the small business economy but you're also helping a mother or father raise their children.
Ally Loprete of Stevenson Ranch is quite the multi-tasking mom. One minute she's on the computer running her at-home business. The next minute she's in the kitchen getting milk for one of her children, and later she's upstairs comforting the child as she continues to work.
"I got laid off my job, I came home and I saw my son start to flourish and I said to my husband, 'I am not going back to work,'" said Ally.
Ally said that at about that same time she realized there were plenty of other self-employed parents just like her. So she started her networking site, OurMilkMoney.com, to help them out. The idea of the Web site is to get work-at-home parents to buy or barter the products or services from other work-at-home parents.
"We have a great local carpet cleaner. I bought a vacuum cleaner from a great local company that is run by a family," said Ally.
Chris Mancini works from his Sherman Oaks garage with a Web business called ComedyFilmNerds.com.
"There's a lot of websites on the internet so it's hard to really get the world out and let people find you so you have to use every promotional tool at your disposal," explained Chris.
So when Chris wrote a book for new dads he turned to OurMilkMoney.
"I saw the book sales increase just from the hits from OurMilkMoney," said Chris.
But there is another twist to this website. Parents like Shannon Penrod, who runs a DVD editing business from her Santa Clarita home, put on the Web site exactly what the milk money pays for. In Shannon's case her son is autistic and needs extra care. She is able to be with her son while working at home.
"It gives you that warm fluttery feeling so that you feel like you have a community that's helping you which we felt like we needed, both as businesses owners and dealing with autism. It's great to have that support," said Shannon.
OurMilkMoney does charge $25 for an annual membership for work-at-home parents.
(Copyright ©2010 KABC-TV/DT. All Rights Reserved.)